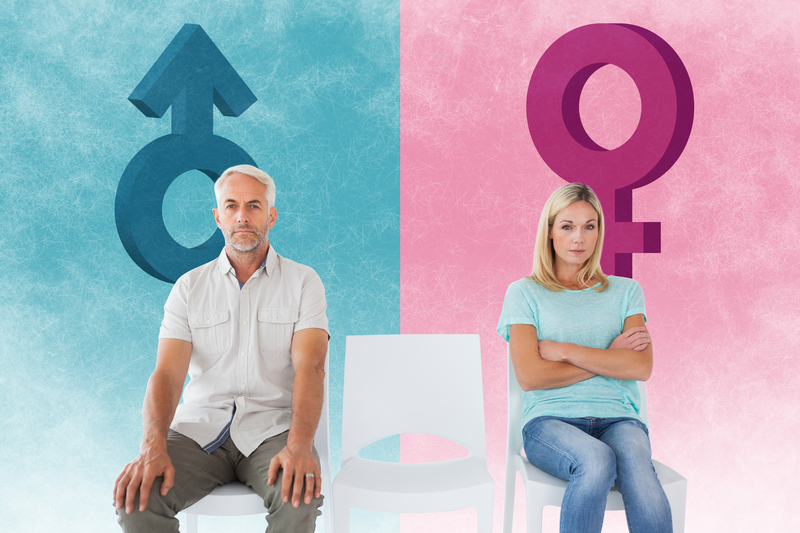 Have you ever had someone tell you that your soul mate will turn up once you stop trying so hard to find him? And when you heard that, did you roll your eyes?
If you did, I can understand why – it sounds so counter-intuitive at best and, well, let's face it, pretty damn annoying at worst!
But here's the thing – there's something to this "cliché" statement.
Lovely, when you're too serious about finding love, and you see every man you date standing at the end of an aisle wearing a tuxedo, you're giving off major desperation energy.
If you've been with your man for a while and you find yourself still pushing for him to treat you in a particular way, you're being in your masculine energy out of subconscious desperation.
This energy is…
Thick, it's almost oozing out of your pores!

Women like this tend to be rushed and more impatient in their interactions.

You're not enjoying your current experiences (meaning you're not being present) because you're too busy projecting into the future.

You're not taking the time to really get to know what makes the man you're with tick.

You care only that he is a man and whether he's husband material!

You need constant reassurance of how he feels and where the relationship is going.

This is a woman putting security over connection.
I was seriously oozing this in my 20s.  It's a major turn-off ladies!
Men are like Hound Dogs!  They can sniff out desperation energy and go running out the door as if their hair is on FIRE.  They don't look back.  And, they'll lose your number, ghost you or give you some weak and lame excuse as to why they've been MIA (Missing In Action).
On the other hand, Vixens learn to view the "Game of Love" as a grand adventure, not a chore or a box to check off on the to-do list.  These women hold onto their power and their success shows for it.  They see themselves as explorers on a voyage of great discovery.
They aren't desperate women trying so hard to be a 'desperate housewife' on the hunt to land a man so their "real" life can begin.
This is how you know you're ENERGY IS ATTRACTING not repelling…
Your energy is light and airy, fun and whimsical, or daring and playful.

You find the "Game of Love" exciting and you're ready to play the game very strategically.

You're not projecting into the future, but enjoy experiencing life in the present moment, creating memories to enjoy later.

You don't lament that you aren't quite yet at the perfect future you've always dreamed about.

You see the man for who he really is versus projecting what you want him to be.

You organically allow the relationship to develop with no pressure or ultimatums AND you feel secure in its direction.

This is a woman who's confident in herself.
See the difference?  Men can feel the lightness and joy which is magnetic to them!
This mindset is one of the great secrets I coach women – these are the charismatic Vixens who always seem to get the guy.
When you embody this energy, it allows you to be playful and seductive. Women like this exude a sexy self-confidence that says you don't "need" a man to be fulfilled, but rather you enjoy men, dating and the deliciousness you "want" to explore with them.
This man magnet energy allows you to be present with your man, which makes you fun and more interesting to your suitors.  This vibe makes men want to be with you more and more because it feels good!  Remember, this is part of the "man code".
When you aren't focused on what could be, and instead enjoy what is, you will actually be able to maintain a successful relationship longer than your sisters running on the desperation treadmill, which is draining and slows down the process of attracting and keeping "The One" or "Stable of Stallions".
A Vixen doesn't need to manipulate a man into loving her – she lets it happen naturally!
So relax, my dear. Embrace the process of attracting juicy love AS you live your first-class life, not INSTEAD of living your life. Love yourself first and learn how to be a high-value woman.  Allow that self-confidence and man magnet energy to radiate from you instead of desperation.

Enjoy meeting and dating men without worrying if this one, or that one, could be "The One." Heck, ditch looking for "The One" and have fun meeting a "Stable of Suitors", if that's your desire.
Once you take a deep breath and let go, and stop feeling your masculine energy's pull to control the situation, you'll be surprised where the love fairies may take you!
Remember, your feminine energy compels you to just "BE"…Be Bold, Be Brave and Be Beautiful.  Now it's time to allow it to work its magic!
If you want to swim in the sea of love, click here, so we can chat on how to manifest your man & money dreams.