Man Code Lesson 2: BE THAT BITCHIN' BABE!
by Stacey Murphy
As mentioned in Lesson 1, men love confident women! Or, better said – secure, stable, got-their-shit-together men love a confident woman. Let's face it, if you want to be in a relationship that makes your toes curl and your heart skip a beat, you should desire to be with a man that's worth keeping.
Since I'm in the business of juicy love, I get a kick out of practicing the techniques and strategies I teach my lovely Vixens. Every day, I make a promise to myself to embrace my Vixen-hood, because I am a woman who's vivacious, intelligent, extraordinary, empowered and oh so naughty. Can you see this for yourself? You may be wondering what my man thinks. Let's just say, he seems to have a permanent grin on his face. He admires my sassy confidence and strength, just as I admire his. This is the same juiciness the Vixens in my Hook Him & Keep Him Boot Camp are learning first hand.
The only thing that can through you off your game is low self-esteem and low self-worth. This often comes hand-in-hand with co-dependence. Men can be like Bloodhounds. They can sniff out a desperate woman a mile away and they go running for the hills. This is because needy and clingy women are unattractive. In a man's mind, these women are high-maintenance. This is the exact opposite of what men truly crave – which is a high-value woman.
The secret to claiming your high-value woman status is to authentically rock who you are as a woman.
Here's my coach's challenge for this week!
In this short video tip, I share how you can start to embrace your sexy self-confidence so you can rock the qualities of a High-Value Woman.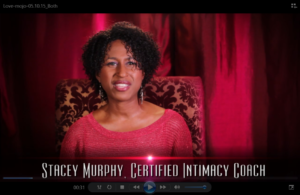 Go to Lesson #3 in the Man School as you'll learn the top 6 male behaviors & habits.