Recently, I shared with several clients and friends how the collective energy swirling in society feels as if we're in limbo, a place of stasis.  People feeling both numb and exhausted by the revolutionary change of 2020. However, not everything was doom and gloom. Not everything in 2020 was about suffering.  
For those who experienced growth, whether mental, emotional, or financial, it taught them to hold a deep sense of gratitude and to be unassuming with their success. Sharing to inspire others with hope has replaced being boastful or braggadocious to artificially inflate one's ego.
Today, I'm going to share with you, my Vixen, something I do every day. It was (and is) key to the great year I had! 
It's important for you to hear good news so you're fired up knowing, IT IS possible to thrive in the midst of crazy.  That someone else's drama doesn't have to be your own.
Appreciation, gratitude, 'asking' then surrendering, have been my companions this year. I ask by way of an INTENTION. I surrender by letting go of the outcome.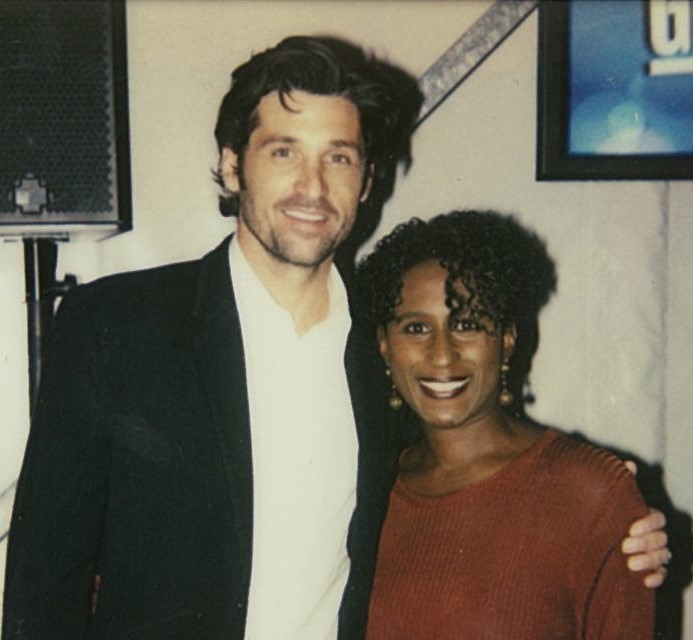 I had to remind myself this is how I manifested the opportunity with Mr. McDreamy himself, Patrick Dempsey. Knowing 'how' men think, knowing 'how' to project my value AND knowing 'how' to ask produced this result!
One of the easiest ways to 'open your heart to receive' is to practice appreciation and gratitude both BEFORE and AFTER asking for your needs to be met. Then, you surrender with grace. I have a daily meditation practice that includes intention work (the 'ask') and gratitude. 
When you have an attitude of gratitude, it opens your eyes to see the kindness that's all around you. 
Just like when you buy a car then you notice all the people driving the same car. Or, you think of someone, then they call you the next day.
You're actually training your brain to notice the good, which in turn allows you to manifest more juicy goodness in your life. This is also training your brain to appreciate what you have, and your experiences, so you can attract more of them.  And, appreciation is a man's love letter.
When you're clear with your intentions, you're able to recognize the clues, patterns, and synchronicities related to your desires faster so you can 'ask' the right questions, leading to conversations with the right people, leading to making your dreams come true. In other words, leading to an opportunity with Mr. McDreamy. Are you getting how this works now?
This is just a sampling of what I'm grateful for. I focused on my energy and intentions (the 'ask') all while taking a fresh perspective from my Spoiled Girlfriend program. This helped me manifest magical miracles in the midst of the 2020 craziness:
My business is seducing an income milestone!!!
I've had a blast being interviewed on various TV & radio news stations on ABC, CW, Fox News Radio, and Newsy
Kicked off my Laptop Lifestyle by enjoying San Diego for 3-weeks which landed me in a beautiful lodge (Tibetan Buddhist tradition) in the mountains at the Quiet Mind Mountain Retreat in Julian CA
While in San Diego, people made themselves available to me in profound ways I wasn't expecting.
Coached my daughter on her presence, and negotiating strategy, which helped her get a job in Congress…OMG!
I'm having the most amazing relationship with my Mom…Priceless!

My spiritual training, understanding, and belief is at an all-time high
I'm excited to have attracted my next Spiritual teacher
My former and I are settling into a good friendship.  It's nice he's there for me.
Made monthly trips to the Salvation Army to give a 2nd life to items others need and to make room for what's yet to come.
After nearly 20 years of being coupled (in one way or another), I'm having the best relationship with 'ME'
This is the best I've felt about my health and body. Grateful for the hysterectomy even with the difficult recoveries.
I worked smarter vs harder by kicking multitasking to the curb AND the results show it can BE DONE with less stress.
The tools in Spoiled Girlfriend were a good refresher for me.
Being committed to my Spoiled Girlfriend strategy kept me focused on possibilities and appreciation even if other things were going crazy around me.  My mind stayed calm allowing me to be in alignment with what I wanted to experience. I was able to ask for my needs to be met, while letting go of the outcome. I just kept myself "open to receive", and when I saw an opportunity, I had the courage to 'ask'. And, it turned out better than I could have imagined.
My Vixen, in Step #4, Your Spoiled Girlfriend Strategy, of the Spoiled Girlfriend Program, you learn:
How to "Ask & Seal the Deal" by learning the 3 levels of mental seduction

Determine which of the 6 "Spoiled Girlfriend" technique are your sweet spot
The "Art of Persuasive Conversation": Formula and Scripts
The "Art of Appreciation" (The key to a man's happy wallet)
Hopefully, this story gives you the inspiration that whatever is going on in your life you can turn it around.  But only if you ask, and only if you act. So I invite you to check out the juicy details of the Spoiled Girlfriend Program so you can manifest magical miracles in your life as well….Namaste