Discover How to SOLVE YOUR SINGLES CRISIS and Instead
Learn the 8 Powerful Steps to Attract a HIGH-QUALITY MAN!
You Will Learn to Build Your Confidence and Embrace Your
FEMININE POWER Making YOU an IRRESISTIBLE Catch to QUALITY MEN!

Break the cycle of dead-end relationships

Learn how you can be in a fulfilling relationship free of the past

Attract a "

Quality Man

" who's ready to commit

BE the best version of YOU, allowing you to be an Irresistible Man Magnet!

Learn how to make a man fall madly in love with you…again and again

Learn to attract a relationship by design vs. accepting whatever the wind blows your way

Understand how to master the male mind so you can capture his heart

Rev up your sex life so you can ROCK it like a Rock Star

Preserve and deepen the intimacy once in a relationship

Are You Ready to Be Single NO MORE!!!
Are You Ready to Attract a High-Quality Man?
Are You Ready to Be in a Loving Relationship AND
Have a Wonderful Man Cherish You?

Even before this dynamic program begins, you're going to start kicking the dead weight to the curb, so you can plant the new seeds of attraction over the next 8 weeks.
You'll start to develop your "Man Magnet Dating Plan".  This will be your Quality Man GPS and the secret to understanding the "Essence of Man" anchored in your feminine power.  Using Law of Attraction principles, this is where you will start to truly LOVE men, so men can authentically LOVE YOU!

You're going to understand the

power and strength of "Vulnerability"

and how it's essential in attracting your hearts desire

You're going to identify what pain and hurt you're still holding onto so you can start releasing it with ease

Stacey with Guest Expert: Jen Wilding, Break-Up Recovery Specialist
You're going to take out the trash of your ex-relationships so they can stop ruining your chance at new love…once and for all.
You Will Be Coached To Master:
The real reason recovery from your break-up feels slow and painful

The 5 mistakes to avoid that are keeping you stuck

The 5 key solutions to get you out of your stuck-ness

How to effectively release the emotional pain of the past

How to take off the mask and armor of protection and show your authentic self

How to genuinely release the mental pain of the past that is sabotaging your chances of a fulfilling relationship in the present and future

How to forgive yourself and free your heart to love again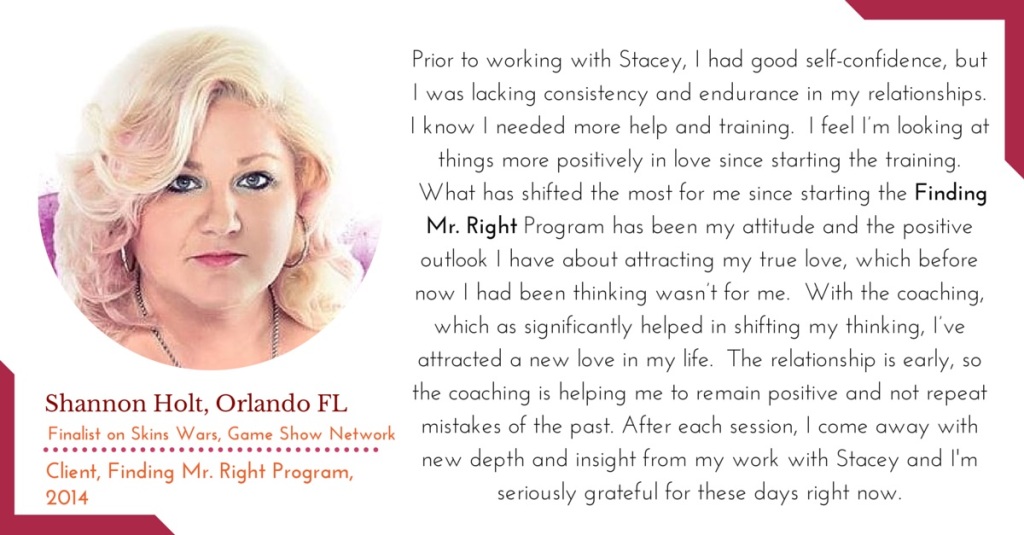 Like pixie dust, know how to use the "Law of Attraction" to be crystal clear about the soul level relationship you desire to have, as you transform your relationship story.
You Will Be Coached To Master:
The process of belief and how to use it to transform your relationships by understanding the power you have to attract your ideal partner

To identify outdated beliefs that have been ruining your chances for a happy love life

To create new empowering beliefs that are in alignment with your desires

How to powerfully transform negative self-defeating thoughts into magnets of attraction

To identify what you want in the 4 relationship love zones: mental, emotional, physical & sexual to ignite your desires

How to re-write your "Relationship Story" with your new empowering beliefs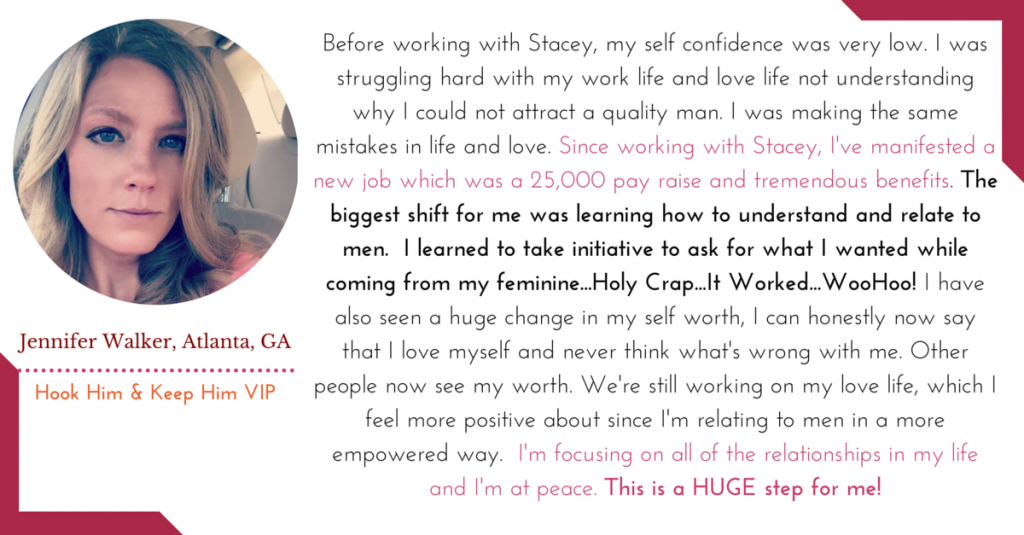 Path of the High-Value Woman who by Masters the Male Mind
Transform the female sabotaging behaviors that push men away which are ruining your chances of being with a QUALITY MAN.
You Will Be Coached To Master:
Learn what a High-Value Woman Is and why a quality man will commit to her

How to radically transform the gremlins of resistance, insecurity and envy to set yourself free to love fully

Learn 11 inner truths about how a man thinks that every woman should know to capture his mind which is key to his commitment

Learn the 11 female behaviors of a Low-Value Woman that sabotage your chances of being with a quality men.  Behaviors men consider to be high-maintenance and create drama in your relationships

Learn the 11 powerful High-Value Woman mindsets that are the anecdote to the female-sabotaging behaviors.  These powerful mindsets open the door for a man to trust you and emotionally connect with you.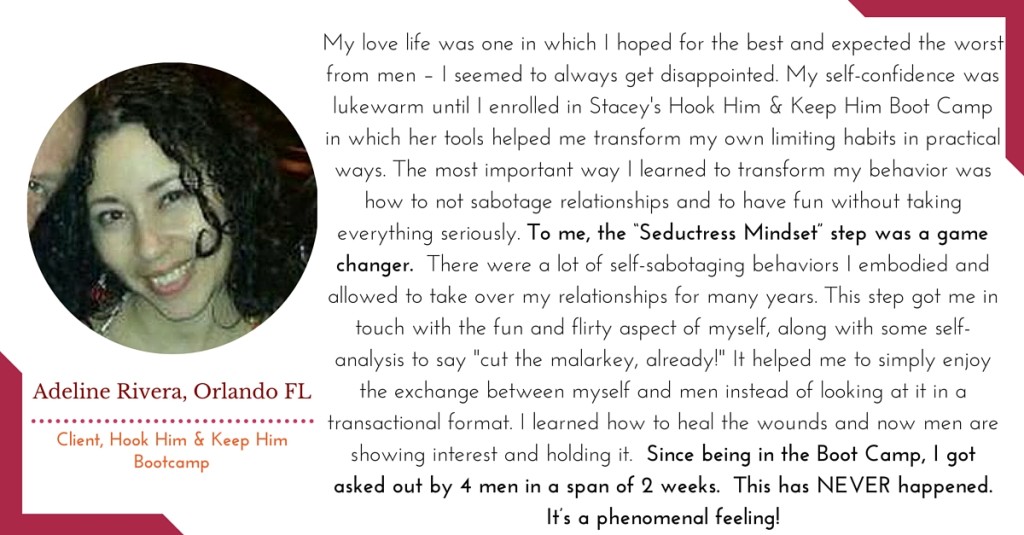 Know how to make yourself unforgettable as you learn to exude empowered sex appeal that will magnetize and mesmerize your Life Partner.
You Will Be Coached To Master:
Build your confidence in the ability to seduce any man with honestly and integrity

The 10 key qualities of a High-Value Woman and how to master them in your daily life and relationships

The 5 classic skills of the Seductive Arts and how to apply them to rev up your self-confidence

The 5 "WOW Factor Essentials" that make you unforgettable to the right man

Learn to OWN your trademark qualities to be fierce and fabulous in life and love

Develop your "Simply Irresistible Plan" designed to make you feel gutsy and daring in the presence of men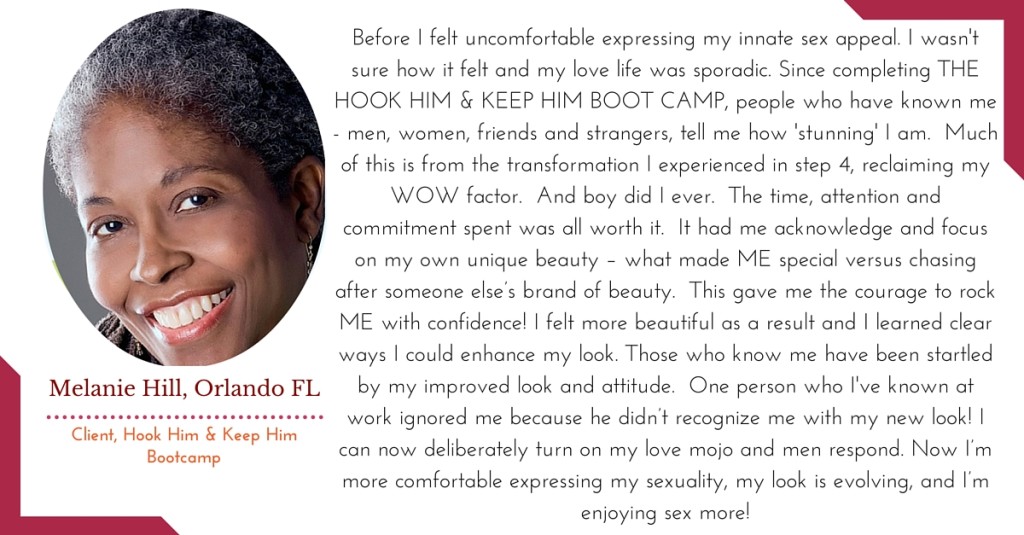 Know the steps to create your relationship by design vs default in the 7 key relationship areas.  This will put you in the driver's seat of your love life. 
You Will Be Coached To Master:
What relationship model is right for you

There are (6) relationship levels, so you will get clear and discover which level is the best match for you

How to master the relationship wheel and the 7 key relationship areas by being detailed, clear and concise:

Mental, Emotional, Spiritual, Physical, Sexual, Financial, Social

How to affirm what you want in a partner,

how you want to be treated in your relationship

and how you desire to show up in your relationship

The 5 love languages and how to recognize them in a potential mate so you can effectively connect with him

How to raise your

LOVE

vibration to accelerate calling your lover to you

Learn why making room for your Beloved will fast track your love & sex life.
You Will Be Coached To Master:
Mental

How to create a mental pleasure map to propel your ideal mate to your door through visualization, vision boards and meditation

Physical

Key Feng Shui principles to transform your space and creating an appealing love nest to welcome your lover

How to eliminate the chaos and clutter from your space so you can make room for The One

The top 4 things to remove from your bedroom that sabotage attracting the love you deserve

The top 3 energetic essentials to include in your space to raise your man magnet vibration signaling you're ready for a quality man to be in your life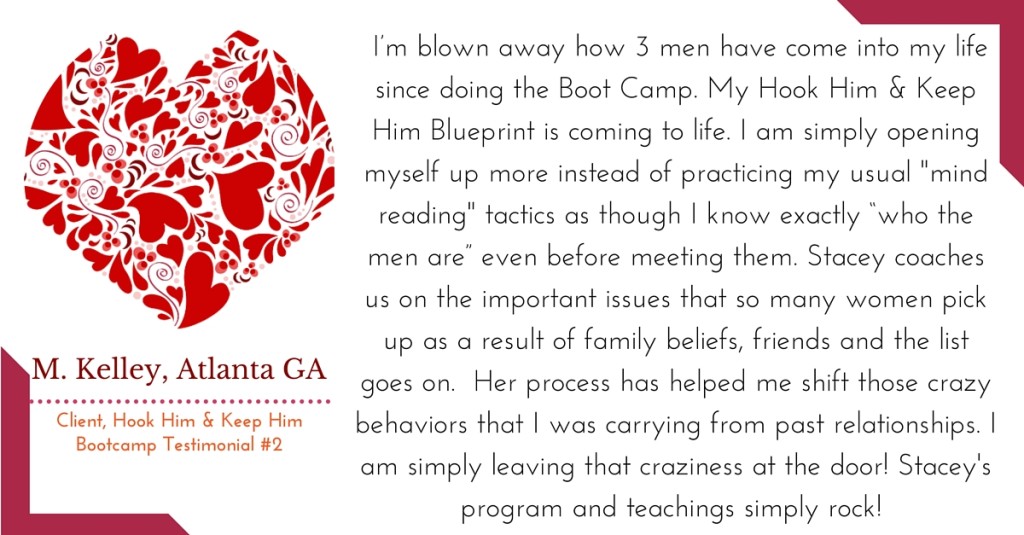 Start the transformation from bad boring sex into a Sex Kitten who skillfully intoxicates her man.
You Will Be Coached To Master:
The

5 Pillars of intimacy

and why you need to master it in your relationships

To release those stubborn inhibitions that prevent you from having a fulfilling love and sex life.

To empower your sexual voice and make peace with perceived sexual taboos

How to effectively communicate your sexual needs, wants and desires in a confident and affirming way

How to be the

CEO (Chief Erotic Officer) in the bedroom

that will captivate your beloved in body, mind and heart

How to Rock Your Inner Bad Girl

The top 10 erotic skills every woman should be knowledgeable about and master at least 5 of them

Develop your personal "Sex Kitten Toy Chest"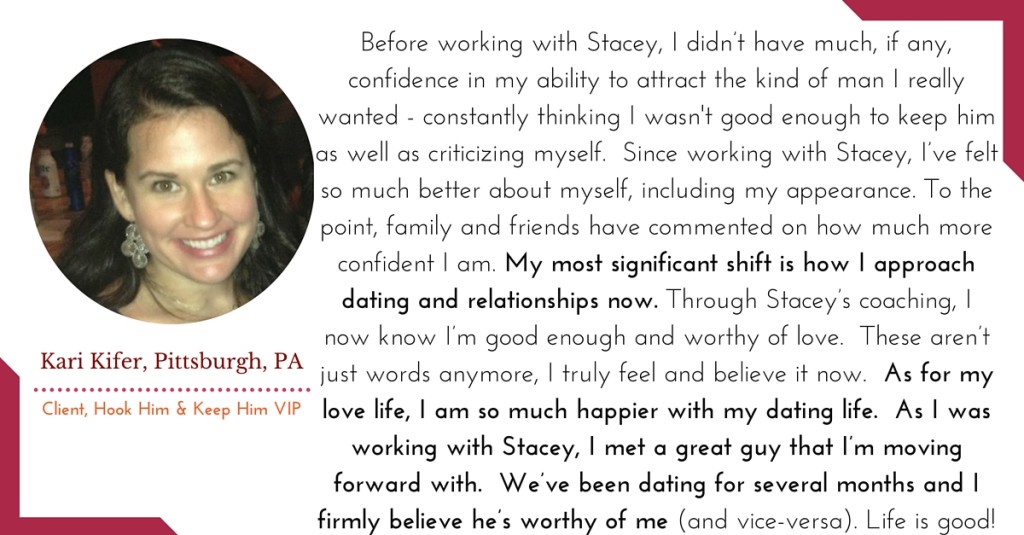 Stacey with Guest Expert: Suzanne Muller, On-line Dating Coach
Happy Living Forever
In our hustle and bustle world, learn how you can authentically shine online.

You Will Be Coached To Master:
How to have a powerful "

Online Dating Mindset

" and the tools to get you there

The key mistakes to avoid when building your on-line presence

How to create and build an outstanding profile that will attract your ideal partner

What profile pictures grab attention, present you in an authentic way and attract a 2nd look

What safety measures to put into place for online dating

The various on-line dating site options

Proper on-line dating etiquette

Eight 60 – 120 minute Audio Coaching Sessions with me guiding you through a powerful coaching process focused on YOU and your desire to attract a Quality Man

Boot Camp video training, eBooks and Workbooks to fit your learning style

Weekly Lovework Action Guides for each course session so you can implement a proven system to attract a High-Quality Man

Your Man Magnet Dating Plan will help you understand men allowing you to stand out in a crowd and BE noticed

Part One of the Boot Camp (Steps 1 – 4) focuses on YOU, so you can be a confident women excuding amazing self-esteem. This maximizes your

Love Vibration

allowing you to be simply irresistible!

Part Two of the Boot Camp (Steps 5 – 8) focuses on

Calling in the ONE

! Now that your foundation is strong, you are ready to call in the love of your life with an open heart and in joy!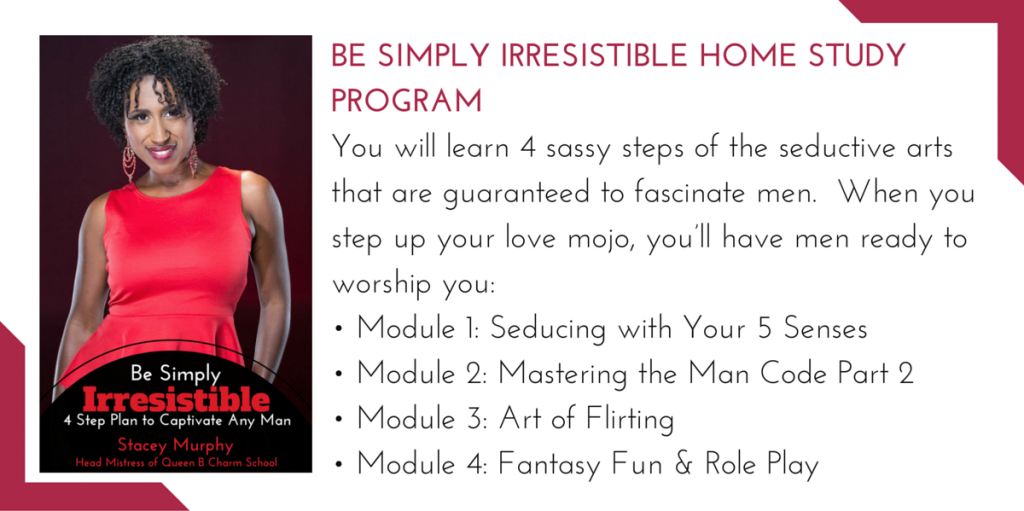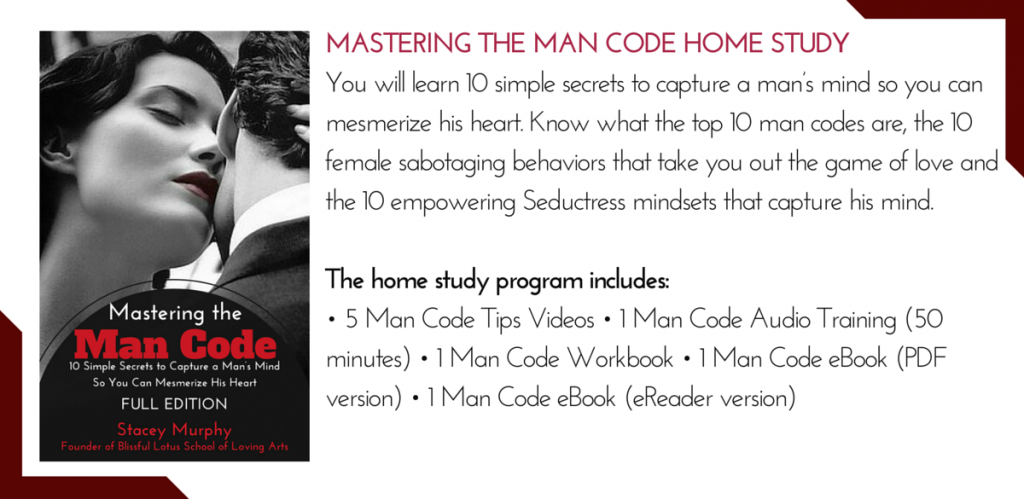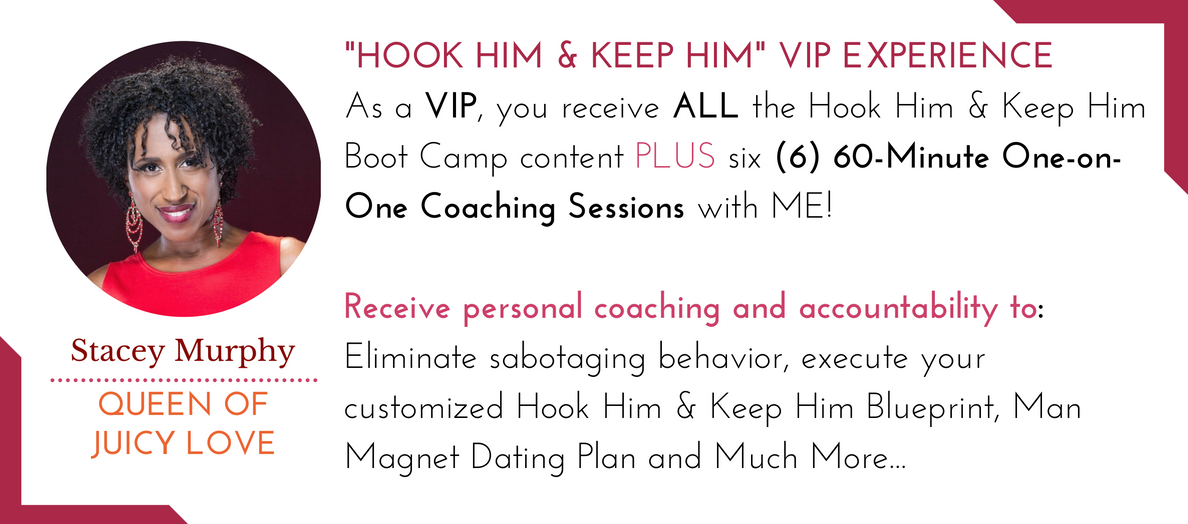 1) Is this training worthwhile if I'm still healing from a painful breakup?
Yes, because this training will help you to heal faster from the breakup.  This is why we address this head-on in Step 1 (Bust the Breakup Blues) of the training.  You will be given the tools to give your ex-partners an Eviction Notice.  A necessary step in order to attract a Quality Man.
2) What if this just isn't a good time? I'm too busy right now.
In our society, there will always be something we have to do, so we end up putting our deepest needs on the backburner.  This is the precise energy that attracts a man who won't commit.  Women ready to own their worth take empowered action to change the circumstances in their life vs waiting.
If you want a man to commit to you for a lifetime, then you can commit to yourself for 8 weeks.
3) If I haven't dated for a while, or I'm currently not dating, will this program work for me?
Heck Yes! This program is created just for you. During the first half of the program, we focus on YOU, helping you become a confident, feminine, open-hearted woman who enjoys dating and being with a Quality Man.
This program is perfect if you're just getting into the dating game, if you're returning to the dating scene after a long Siesta or if you're dating someone and you want to make sure you don't mess it up by falling into sabotaging behavior.
4) How is the Hook Him & Keep Him program different from others out there?
This program merges the principles of the Law of Attraction with the Art of Seduction.  Many of us are familiar with the law of attraction, but unfamiliar with the art of seduction, which is your divine feminine radiance that men are craving to experience with you. This is why you'll learn to 'Reclaim Your WOW Factor' in Step 4 of the program.
5) Is it worth the money?
According to women who have taken the boot camp, they said, "Yes".  Ladies, let's be real, we spend money on temporary highs – cloths, hair, nails, eating out.  This program isn't a temporary high.  An investment in you produces a lifetime of benefits and highs.
6) What if this doesn't work?
Is what you're doing now working for you?  If you said, "No", then you need to shake it up and do something different that HAS WORKED.  If you're fishing in the same pond, but expecting different results, that's the definition of insanity.  This isn't a book or YouTube video, you'll be working with a coach who has years of successfully helping women attract juicy love.
7) Can you tell me more about the bonus ticket to the live 'Rock Your Radiance: From the Bedroom to the Boardroom'?
My live event is the perfect complement to my Hook Him & Keep Him Bootcamp. You're going to get immersed in your feminine charm with the 'Art of Flirting' as you experience a Man Magnet Makeover.